Best Darn Torque Converters in the World!
About Us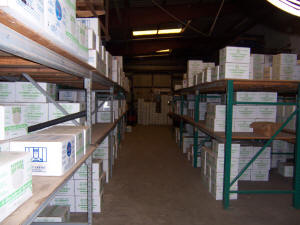 At Florida Torque Converter, we know that when you hire someone to get the job done, you want it done right and you want it done Fast. We also know that

you want to be treated professionally

. That's why everyone we hire is not only trained to get the job done, they're also trained in customer service.
We promise that when you use Florida Torque Converter, you can be sure that professional quality work will be done, and that you'll be treated with a smile. Florida Torque Converter is proud to serve all States, and always with a smile!

If you don't get the professional courtesy you think you deserve, we want to hear about it!

Why do we have the

best inventory, great quality and fast delivery

? Take a look at our facility, inventory and how we rebuild with quality.
No problem is too large or too small for Florida Torque Converter. Give us a call. We're looking forward to doing business with you! 1-800-790-0039
---
Florida Torque Converter Introduces 9.5 Billet Series Torque Converters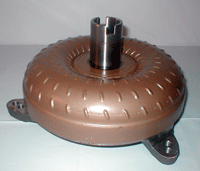 Florida Torque Converter built its reputation on high-torque multiplication converters. Now they've turned their attention to developing a series of 9.5-inch billet cover, street strip converters for non-lockup GM 350 and 400 Turbo Hydramatics.
Each converter is custom built to customer specifications with variety stall speeds available depending upon the application. The Florida Torque Converter 9.5 Billet Series converters feature a unique billet front cover, Sonnax one-piece design anti-ballooning impeller hub, furnace brazed fins and Torrington needle bearing thrust washers, Chrome-moly steel turbine hub with hardened splines for strength and lubrication holes to promote oil flow and reduce temperatures and steel front cover (with removable pilot) for increased strength and resistance to ballooning. It is available in horsepower ratings up to 1,000hp.
Florida Torque Converter's 9.5 Billet Series is the perfect street/strip torque converter in that it is race-ready, yet provides the highest torque multiplication factors of any converter available. This means you can get the desired performance at a lower stall speed and excellent down-track coupling efficiency.
All 9.5 Billet Series converters are built with state-of-the-art cores originally designed for high horsepower and peak efficiency. Florida Torque Converter's proprietary manufacturing equipment ensures precise internal tolerances and perfect balance.
---
Florida Torque Converter "spragless" racing converters have been sold since 1998 and there are many still running today. Florida Torque Converter "spragless" racing converter in 2005 became evident that the sprag type converter could not withstand the large tire, high HP cars becoming prevalent at the track. With HP increasing every year, it is important for a racer to understand the pitfalls of a sprag type racing converter.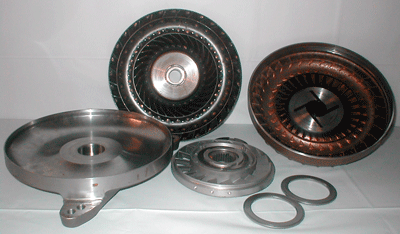 FACT: Simply put, a sprag is a one way clutch, functioning just as a ratchet does in your toolbox. It is locking in one direction and freewheeling in the other direction.
FACT: The sprag assemblies are often damaged during the initial tire shake as the racer goes through the burnout. The sprag is rapidly loaded and unloaded during the tire shake, causing the sprag to wear unevenly and eventually break. A worn sprag is actually worse than a broken sprag as the racer has no idea why the vehicle is so inconsistent and will spend countless hours checking everything but the converter. When the sprag eventually breaks, a racer will see the car slow down about .5 seconds and spend hundreds of dollars to repair the sprag until it cracks or breaks again.
FACT: If the sprag slipping occurs on the starting line, which is prevalent with use of the trans brake, the converter in turn will "load" the engine just for a moment (i.e. a couple of hundredths) and the car will roll through the stage beam at an RPM less than normal stall speed. The result is VEHICLE REACTION TIME LOSS. Your .010 light is now a .040 light. If the sprag slips more than a few moments, the 60 ft. time will also suffer.
FACT: If the sprag in the stator of the converter slips on the shift change, the RPMs will fall back to something lower than the normal stall speed of the converter. For example, the RPM after a shift change will be 200-300 lower if the sprag is slipping. This will slow the E.T. .02-.03, plus a loss of MPH. A quality playback tach will show this problem.
FACT: A sprag in a racing converter must lock at the stall speed of the converter to function properly.
While most experienced racers know that sprag breakage is responsible for 90% of converter failure, most are unaware of the misinformation surrounding the "spragless" racing converter.
The major advantage of a "spragless" converter is that it does not have a sprag to malfunction or break, so it is the most durable and consistent racing converter on the market. A race car must repeat, round after round, to win a race and the "spragless" racing converter offers this huge advantage. Florida Torque Converter offers the "spragless" in 9" racing converters and each converter is custom built to your HP and torque requirements.
---
Go Green!
Florida Torque Converters re-manufacturing process helps save unnecessary waste both in materials and time.
We use UPS' carbon-neutral shipping!
---
Check out our new E40D, 4R100 Triple!!! Triple Clutch Triple Bearing!!!
The Triple Bearing ia an extra feature that most Torque Converter rebuilders do not offer!!
Please check before you buy to make sure you are buying the very best possible!!!
Give us a call. We're looking forward to doing business with you! 1-800-790-0039
---