Best Darn Torque Converters in the World!
STAGE 4 SUPER 8" SPRAGLESS RACING CONVERTER

STAGE 4 SUPER 8″ SPRAGLESS RACING CONVERTER
The Florida Torque Converter "spragless" Super 8″ (actually 9″) Racing Converter is a custom built piece that is designed for 800-1150 HP and engines in the 509-632 cu. in. class. It is assembled with either a custom built aluminum or steel stator depending on HP, nitrous or blower application. It is an ideal converter for the 7.00-8.00 big block dragster and is extremely efficient, durable and consistent.
The Super 8″ is available in GM, Ford and Chrysler models and can be set to stall between 4000 and 7000 RPM depending on HP and torque. The Super 8″ racing converter is available with a mechanical diode or Borg Warner element sprag if requested.
FEATURES
Most Efficient 9" Converter on the Market

New 4140 Hardened Chromoly Impeller Hub

New 4140 Hardened Pilot, Turbine Hub

Custom CNC Ported Cast Aluminum or Steel Stator

Available with Fabricated Steel Stator for Maximum Efficiency

Anti-Ballooning Plates on Pump

New Billet Cover

Torrington Bearings

Screw On Pilot to Adjust to Midplate

Furnace Brazed Fins

Computer Balanced and Pressure Leak Tested

Free Stall Adjustments within the First 90 Days

No Sprag to Slip or Fail

All Converters Knife Edged for Maximum Efficiency

Built to Your Specifications

Maximum Torque Multiplication with our Furnace Brazing and Tighter Clearances!

More Consistent ET with Our Spragless Torque Converters!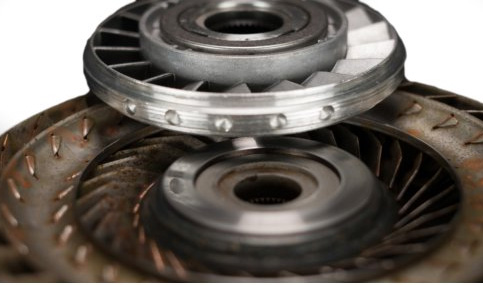 STAGE 4 SUPER 8″ SPRAGLESS RACING CONVERTERS
MAKE
TRANSMISSION TYPE

GM

350/400

GM

POWERGLIDE

FORD

C24 24 SPLINE

FORD

C24 26 SPLINE

FORD

C6

MOPAR

727
---